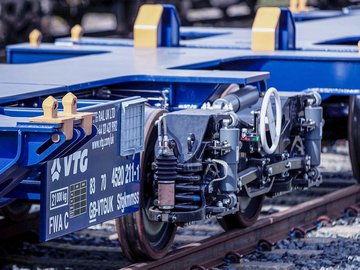 Products and Services
Take advantage of our wagon fleet, logistical expertise, and digital solutions.
Wagon hire
Need a short hire or a long-term lease? Do you require individual freight wagons or a whole train? Whatever you need, you will find it in our portfolio: the right tank wagons, standard freight wagons, intermodal freight wagons, tank containers, and modular superstructures. Even if your requirements are not "off-the-shelf", you can benefit from the technical capabilities of our experts and our fleet of highly specialised wagons.
You look after your core business. We look after your fleet.
Looking for a reliable partner to manage your fleet? VTG Rail UK handles every aspect of management, including technical support for your fleet. That gives you more time to devote to your core business, while we oversee the maintenance and operation of your freight wagons.
Why not sell us your wagon fleet and reap the benefits of leasing instead?
Another option is the sale-and-lease-back approach. We buy your fleet and lease it back to you. Your benefit: You lease only the rolling stock you really need, enabling you to invest the freed-up human and capital resources elsewhere.
Experience professional consulting on all aspects of wagons, superstructures, and tank containers.
We provide you with a broad spectrum of services for the equipment you lease. We are happy to advise you on all technical and legal matters surrounding rail freight, including safety requirements for the movement of sensitive goods. We can even provide training and instruction for your team.
Tank wagons
We have an extensive range of tank wagons for petrochemical products, chemicals, temperature-controlled goods, powdered products and hazardous goods of all kinds.
We have been developing and building tank wagons for decades. Take advantage of both our substantial fleet of tank wagons and our expertise in the transportation of hazardous goods. Our specialists guarantee full compliance with the strictest safety standards, while also efficiently managing your freight from the point of delivery or acceptance of the tank wagon to the final destination. Our portfolio includes tank cars with insulated tanks for temperature sensitive products and mild or stainless steel wagons – lined or otherwise coated – to handle a variety of hazardous goods specifications.
We provide an extensive array of tank wagons of various types to meet your individual transport requirements.
VTG's state of the art tank wagons comply with all relevant safety standards. Additional safety equipment can be fitted on request.
If you need a tank wagon that does not fit any of the usual moulds, we can design and build it for you at our own wagon manufacturing workshop.
PCA-C
GLW: 50.8t Tare: 12.8t Capacity: 38.5m3 Length: 8.25m Pedestal Suspension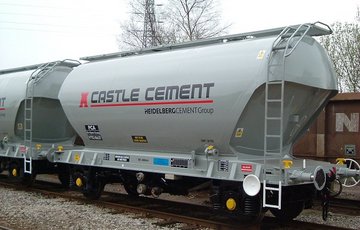 ICA-G
GLW: 101.6t Tare: 27.5t Capacity: 86m3 Length: 17.75m Bogie: TF25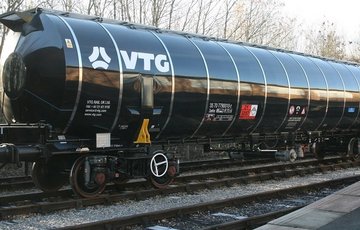 JGA-M
GLW: 101.6t   Tare: 23.5t   Capacity: 70m3  Length: 13.84m  Bogie: TF25
JPA-A; JPA-C; JPA-D; JPA-E
GLW: 101.6t  Tare: 19.9t Capacity: 78m3  Length: 16.14m  Bogie: TF25A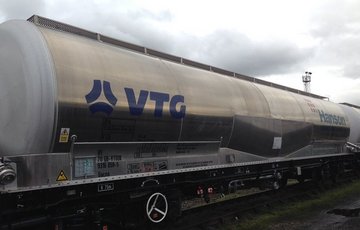 TUA-C
GLW: 51t  Tare: 14.8t Capacity: 43.5m3  Length: 9.15m Twin Axle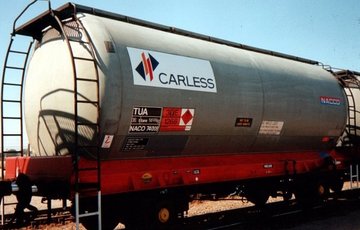 TDA-D
GLW: 90t  Tare: 26.95t Capacity: 92.4m3 Length: 18.3m Bogie: Y25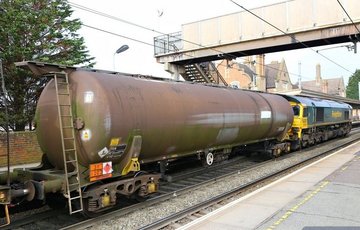 TEA-K
GLW: 100t  Tare: 26t   Capacity: 96m3  Length: 18.3m  Bogie: Gloucester GPS/Y25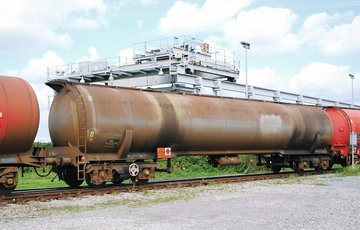 TEA-E; TEA-L
GLW: 101.6t  Tare: 25.8t Capacity: 102m3 Length: 18.3m Bogie: TF25A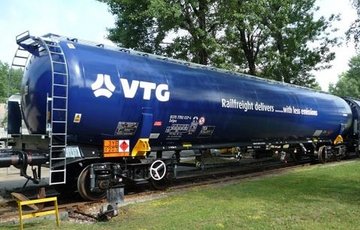 KBA-A
Tare: 28.5t GLW: 73.5t Capacity: 45m3 Length: 9.15m Bogie: Gloucester GPS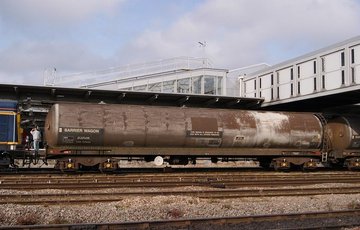 TTA-A
GLW: 45t  Tare: 13.1t Capacity: 38.45m3 Length: 8.9m Twin Axle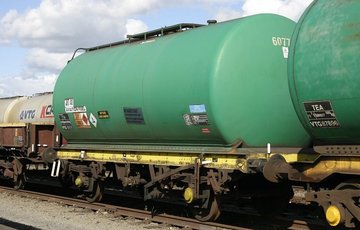 TEA-S
GLW: 101.6t  Tare: 23t   Capacity: 45m3  Length: 15.4m  Bogie: TF25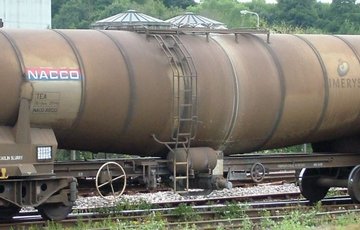 Standard freight wagons
An array of standard freight wagons of different types for everything from steel products to farm produce to building materials.
Construction materials, steel commodities, agricultural products, you name it: "Standard Freight" is the sector of VTG's fleet which contains the wagons to transport these and a whole series of other goods. They can always be relied on as a solid basis for regular flows of goods as well as being the ideal solution to accommodate seasonal or cyclical volume fluctuations in your freight movements. VTG has a large fleet ready and waiting allowing it to lease out precisely the models you need: covered wagons, wagons with opening roofs, flat wagons, box wagons and hopper wagons for all kinds of applications. And if it's not already in our fleet the chances are we can repurpose existing wagons or build new ones to give you exactly the solution you require.
VTG provides an extensive selection of standard freight wagons of varying types to meet your individual transport requirements.
Our standard freight wagons let you absorb seasonal or cyclical peaks in transport demand, sometimes at very short notice.
VTG's standard freight wagons are also suitable for carrying heavy goods that place exceptional strains on the materials used.
JNA-D
GLW: 101.6t Tare: 22t Capacity: 60m3 Length: 13.8m Bogie: TF25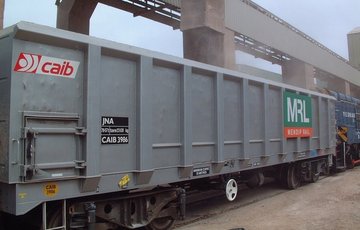 JNA-T
101.6t Tare: 24.2t Capacity: 60m3 Length: 13.97m Bogie: TF25A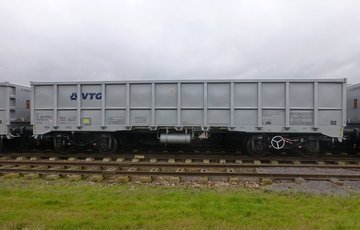 JXA-T
GLW: 101.6t Tare: 36.7t Capacity: 78.5m3 Length: 19.1m Bogie: Gloucester 3-Piece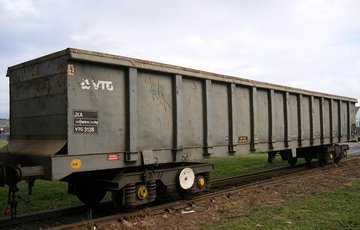 JNA-A
GLW: 101.6t Tare: 23.15t Capacity: 60.1m3  Length: 13.8m Bogies: TF25/3 Piece/AM1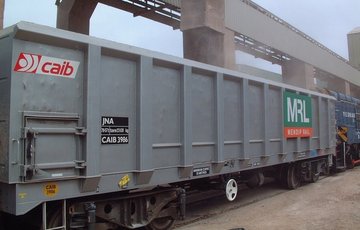 JYA-T
GLW: 101.6t Tare: 23t Capacity: 56.5m3  Length: 13m Bogie: O&K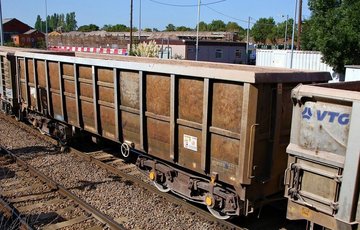 KEA-Z
GLW: 101.6t Tare: 26.95t Capacity: 53m3  Length: 16.2m Bogie: 3 Piece (Davis & Lloyd/Gloucester)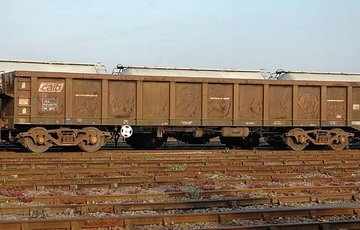 MJA
GLW: 101.6t  Tare: 23t   Capacity: 50m3  Length: 27.94m (Twin)   Bogie: TF25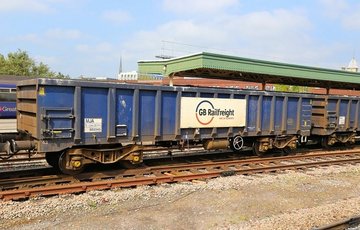 HHA-B (OPEN)
GLW: 101.6t Tare: 28.5t  Capacity: 90.5m3 Length: 19.6m Bogie: TF25A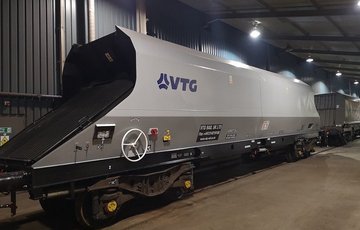 HOA-B (OPEN)
GLW: 101.6t Tare: 23.8t Capacity: 55m3 Length: 15.2m Bogie: TF25A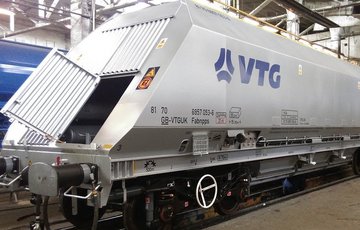 HYA-A; HYA-B (OPEN)
GLW: 101.6t Tare: 25.4t Capacity: 63m3 Length: 14.9m Bogie: TF25A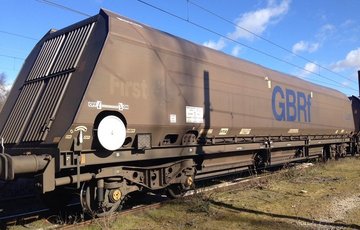 JGA-K (OPEN)
GLW: 90t  Tare: 22.2t   Capacity: 54m3  Length: 14.4m  Bogie: Y25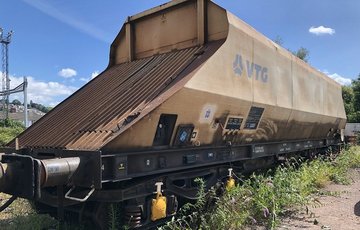 IIA-B (OPEN)
GLW: 101.6t  Tare: 23.6t   Capacity: 55m3  Length: 15.2m Bogie: TF25A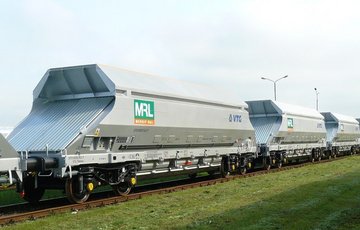 JHA-I; JHA-O (OPEN)
GLW: 101.6t  Tare: 24t   Capacity: 62.5m3  Length: 14.7m  Bogie: O&K/LTF25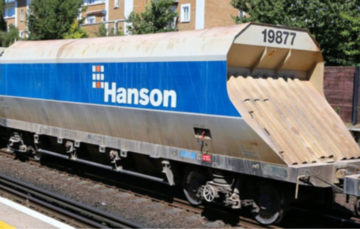 HIA-A (OPEN)
GLW: 90t  Tare: 23.3t Capacity: 50m3 Length: 17.2m Bogie: Y25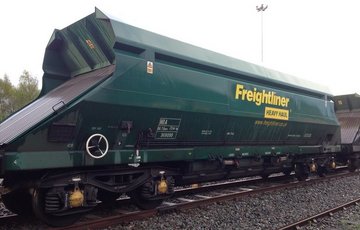 HQA-K; HQA-L; HGA-M (OPEN)
GLW: 90t  Tare: 25t   Capacity: 64.3T Length: 17.2m  Bogie: AM1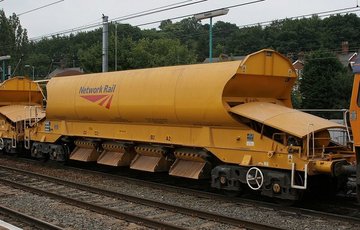 IIA-C (COVERED)
GLW: 101.6t  Tare: 29t   Capacity: 78m3  Length: 19.6m  Bogie: TF25A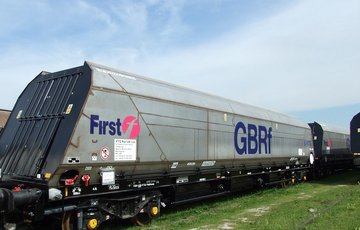 IIA-F (COVERED)
GLW: 101.6t Tare: 25t Capacity: 55m3 Length: 15.2m Bogie: TF25A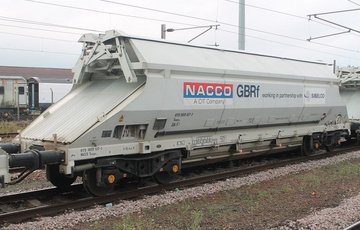 JGA-K (COVERED)
GLW: 90t  Tare: 23.25t   Capacity: 54m3  Length: 14.4m  Bogie: Y25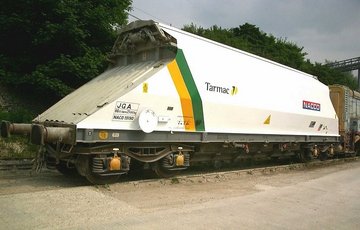 JGA-L (COVERED)
GLW: 90t  Tare: 27.8t   Capacity: 54m3  Length: 17.24m  Bogie: Y25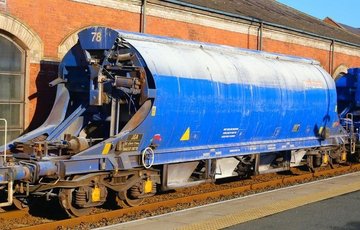 JIA-A; JIA-B (COVERED)
GLW: 90t  Tare: 25.5t   Capacity: 68m3  Length: 17.2m  Bogie: Y25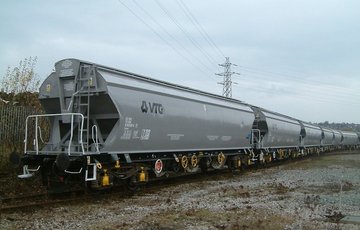 JSA-A (OPEN)
GLW: 101.6t  Tare: 28.6t   Length: 11.4m  Bogie: AM1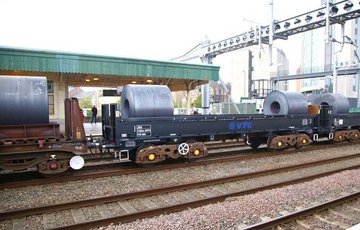 KSA-A
GLW: 90t  Tare: 25.4t   Length: 22.3m   Bogie: Y25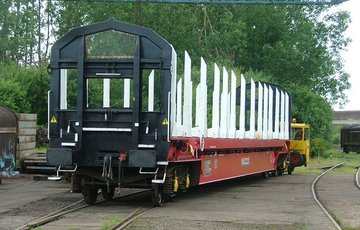 KWA-P
GLW: 43.5t Tare: 25.2t Length: 17.1m Bogie: Y27/VNH1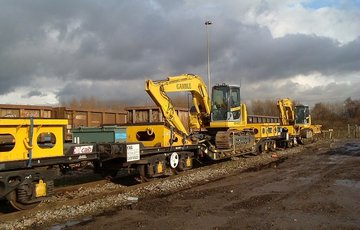 Intermodal wagons
Standardized modular freight wagons give you a flexible and sustainable solution for maritime container transports and continental cargo flows.
VTG is no newcomer to intermodal transport. Years of experience, in-depth technical expertise and impressive innovative credentials make us your reliable partner in this segment, too. We make wagon leasing simplicity itself. And we adapt to your individual needs: Knowing the market the way we do, we are fully aware that – today more than ever – requirements are changing all the time. Whether you need maritime container-based transports or continental cargo flows across Europe, we can provide the right intermodal freight wagons, complete with all the add-on services you need to optimize your transport chain.
We can give you access to a standardised wagon fleet for all types of ISO containers, swap bodies, tank containers and semitrailers. Our intermodal freight wagons can also carry special-purpose modular superstructures.
We harness innovative solutions to shift traffic from barge or road to rail. Thanks to the r2L solution, even non-craneable semitrailers can now ride the rails and thus be incorporated in intermodal transports, while the SWS-PowerBox® supplies the power needed for temperature-controlled goods in transit on the rails.
FBA-K Container Flat
GLW: 80t  Tare: 19.5t  Length : 15.27m  Bogie: Y25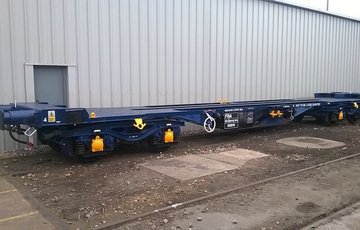 KFA-F; KFA-Z Container Flat
GLW: 82t Tare: 20.0t Length: 20.54m Bogie: VNH1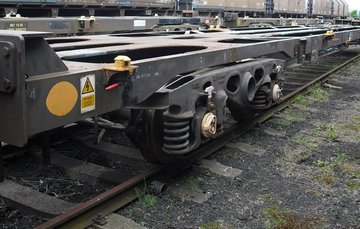 IKA-F; IKA-H; IKA-J; IKA-K 'Megafret' Container Flat
GLW: 126t Tare: 39t Length: 36.44m (Twin) Bogie: Y33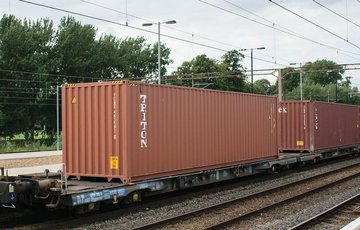 FWA-A; FWA-B 'Ecofret' Container Flat
GLW: 57t Tare: 21t Length: Twin(28.3m) Triple (40.8m)  Bogie: SCT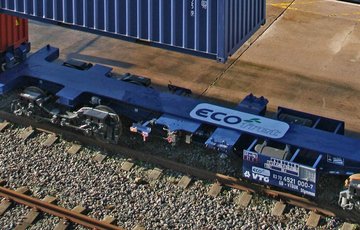 FWA-C; FWA-D 'Ecofret2' Container Flat
GLW: 81t Tare: 21t Length: 40.82m (Triple) Bogie: TF25A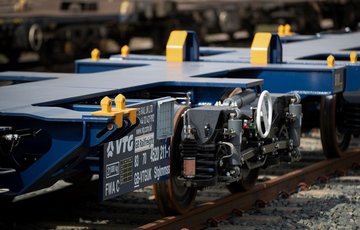 FEA-S Container Flat
GLW: 81.8t  Tare: 20.8t   Length: 40.5m (Twin)  Bogie: Y33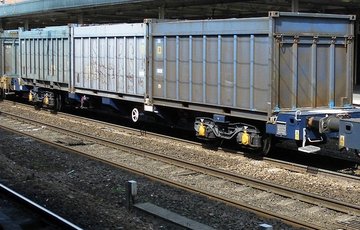 FLA 'Lowliner' Container Flat
GLW: 52t  Tare: 17t   Length: 28.9m (Twin)  Bogie: LTF13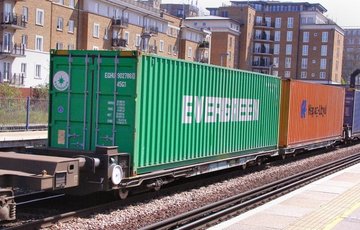 IXA-A
GLW: 56.0t  Tare: 16.5t Length: 16.8m  Bogie: Y33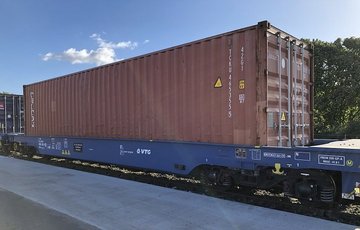 Services
Minimise downtime and outages thanks to our maintenance experience.
We provide maximum wagon availability while minimising stoppages.
You want your wagons to be available for the maximum amount of time. After all, downtime for maintenance, overhaul, updates, or repairs costs time and money. We ensure your wagons get back to work as quickly as possible. To do so, we collaborate closely with an extensive network of maintenance and repair partners. They provide us and our customers with repair and maintenance services whenever and wherever they are needed, in full compliance with all relevant safety standards and with all quality assurances.
VTG Rail UK was the very first UK freight wagon hire company to be accredited with an Entities in Charge of maintenance certificate (EC). This allows us to independently decide the best and safest ways for our wagons to be maintained. We produce and continuously develop our own maintenance plans, implementation schedules, and finally, delivery via chosen contractors. The best available providers supply and maintain major components such as wheelsets, bogies, and brake equipment: They deliver them, as, when, and where required.
We work closely with specialist companies to keep the carriage of hazardous goods safe and compliant. They undertake RID and pressure vessel testing at mandated intervals, with our customers and their rail hauliers. We ensure this is carried out as quickly and smoothly as possible, at the most appropriate locations.
We are pioneers in the mileage-based maintenance of individual wagons. Real-time data can be collected via VTG Connect. We are introducing new systems that allow maintenance personnel to access wagon information online. This maximises availability, quality, and efficiency. We are also developing new systems such as remote wheelset monitoring and load sensing with our partners, which allows wagon maintenance to become even more proactive and less intrusive.
We offer a wide variety of tank container types for intermodal transport, and easy storage of liquid and temperature-controlled products.
Via our wider VTG AG business, VTG Rail UK can help you source the right tank container for all your liquid goods. Our tank containers are ideal for use with different modes of transport in intermodal traffic, making your logistic planning more flexible. Our portfolio includes standard tank containers for liquid chemicals and petroleum products, those suitable for transporting compressed gases and temperature-controlled products, swap bodies for continental European traffic, and special containers for isocyanates. All tank containers can be fitted with extra equipment such as heating systems, insulation, and canopies.