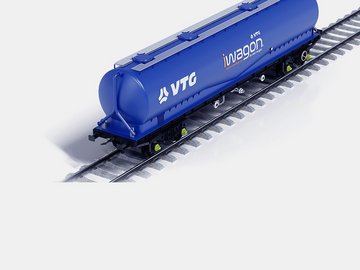 iWagon
The UK's First Digital Freight Wagon
The VTG iWagon is a trailblazer in rail freight; introducing a plethora of innovative features that will unequivocally improve the safety of freight transport by rail.
Wagons which adopt this innovation will benefit from axle generators, generating its own power and will also have the ability to control wheelset slides in low adhesion conditions. iWagon incorporates Wheel Flat Prevention (WFP), a patented system which monitors wheelset slide protection and brake condition. Subsequently, wheelset conditions are maintained, preventing track damage, increasing the longevity of wagons, and availability as less maintenance is required, whilst also mitigating recent major derailments due to its locked axle detection and driver communication.
Brake Condition Monitoring (BCM) is another vital component which will improve the rail freight experience, as it removes the need for annual brake tests, promoting maintenance flexibility and enhanced customer service. BCM will analyse the health of brakes, leading to better visibility and reliability. The emphasis isn't just on safety, as this is coincided by new digital capabilities. Wireless communication is a facet of the system, as it allows full connectivity to upload data real time to the VTG offices and those with iWagon in their fleet. VTG Connect boxes will be permanently powered by the generators and will have full Bluetooth enabled to allow further innovation and connectivity. Due to the expeditious and synced communication between the wagons and relevant stakeholders, the iWagon's capabilities can be exploited; for example, gauging the conditions of wagons with improved visibility. The iWagon further reinforces VTG's stance on sustainability, as i-Maintenance ensures carbon footprint is reduced as a result of less repairs being conducted.
Read more about the launch of the iWagon in our press release here.
Benefits of the iWagon
Rapid status updates available to driver and other key stakeholders
Removes the need for annual brake test at maintenance
Gives more accurate, real time data in the VTG office on the health of the brake system
Better visibility, reliability and availability
i-Maintenance from VTG allows Smart Maintenance based upon wagon conditioning rather than periodical frequency allowing increased accuracy, & flexibility, improved customer service and a reduced carbon footprint
The creation of wagon data and data analytics overlayed with other data sources
Visibility of all areas where increased slide or wheel damage occurs
Reduced shunting time and costs (less wheelset activities, less events)
Increasing safety by sharing live wheelset conditions allowing quick corrective actions
Enquire today
Register your interest today to become one of the early adopters of rail freight revolution.
Email

Archie Lucas
Sales Manager
+44 787 2860761